I was born in 1978 and although I don't think i have any specific memories that i can be sure i can tie to the 1970s (when i was still under 2 years old), decades do tend to live on for a few years into the following one, and the general spirit of the 70's definitely infuses my earliest memories. The music (Steely Dan and Gerry Rafferty and Blondie particularly) the cars, the cigarette smoke.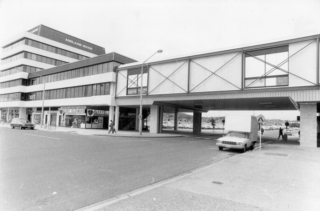 One early memory is of a bar that I remember being under Bonner house in a kind of basement level below the escalators ( it was called Adelaide House at the time. It might have been the Beefeater, which was open in the late 70s or the Adelaide Tavern. Dad tells me it was one of the first places in town to have pac man. My grandparents ran the shoe shop and repair shop that was on the first floor of that part of the plaza — they painted a large yellow giraffe on the outside (and there was a coin operated ride-on giraffe at the front of the store) and did a good trade in clarks school shoes.
The shoe shop and grandpa's original repair business (John's shoe repairs) is gone, but it lives on even today, on the bridge leading to bonner house, in a shoe repair/key cutting shop. I was there just the other day and noticed that one of grandpa's old machines is still in use (photo below). I used to play with these machines (while they were off) as a kid, pretending to polish up bits of leather in the big circular brushes, hanging out with grandpa in his shop after school.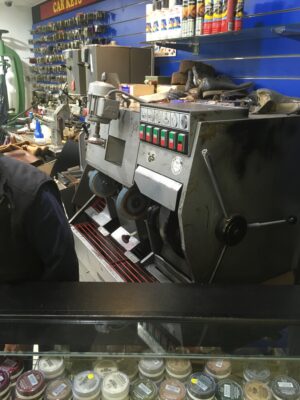 He and Nana had several machines like this imported from Germany, they all arrived in huge timber boxes, and included several kinds of large sewing machine with heavy needles designed for sewing with waxed string through leather. They had hundreds of oily parts and grandpa would spend all weekend taking them apart to service, he had several in the basement of their house which he would repair before selling on to other local boot makers. He had a lot of respect for German technology, which dates back to his time there during the war, where he got to work with tractors and other machines for the first time (which he wrote about in his book).