Letting the world slide through the stage door at the New Ambassadors theatre
At the hour of midnight on 1 January 2000 I was up a tree outside the Tate Modern, watching the fireworks shot from a barge in the Thames bursting through the smoke and London fog. I had become separated from my friends in jumping over a barrier to escape the crush of the crowds. Sadly, I had left behind Laura – a friend of a friend with whom I worked at the chaotic Café Baroque restaurant in Covent Garden. We had all just had a nice dinner together at her place then caught the brand new Jubilee line to the south bank. I didn't see much more of Laura after that, but as sometimes happens after brief acquaintances, my life was already set onto a new course, for Laura worked as an usher at the Royal Aldwych theatre, and it was she that encouraged me to find work in a west end theatre myself.
By early 2000 I had been working in bars and restaurants around London for about six months or so, and was getting pretty exhausted with it. Then one day after work I was walking past a theatre on West Street, just near the intersection of Shaftesbury Avenue and Tottenham Court Road, and I saw that one of my favourite actors, John Hurt was playing in the Beckett play "Krapp's last tape". With Laura's encouraging words in my ears, I dropped a CV in at box office and was surprised when they called me back and I got hired as an usher, starting a few weeks later. It seemed like a dream job. For a start, I was being paid to watch John Hurt playing his last few performances of Krapp. All the job really involved was tearing a few ticket stubs then sitting quietly in the dark at the back of the audience and watching theatre all night. The shows changed regularly, sometimes every few weeks, unlike most west end venues where a big show would often run for years. Lots of interesting plays that had toured the country ended up with a west end run at our theatre, and it was the main London stage at the time for Shared Experience performances, which is some of the best theatre I have ever seen.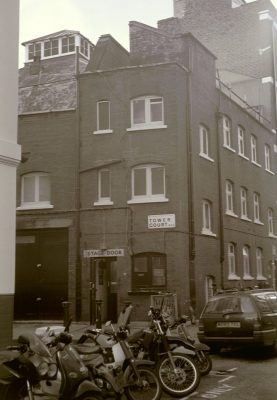 The 'Ambassadors', as it was called, was not as old as some theatres in the west end. It was built around the time of the first world war, and was small, around 400 seats, with a long rectangular stalls area, and a single circle level. It was the last west end theatre that still had hemp ropes to operate all the rigging – although that was all taken out a few years later. In the late 90s it was divided into two spaces with a false floor at the circle level while the Royal Court took residence (it's own building on Sloane Square was being completely rebuilt) but in 2000 when I arrived it had just been reinvented as the 'New' Ambassadors as a 'fringe' type venue under the leadership of producer Sonja Friedman.  One area of the lobby had been redesigned with a peeling plaster look and a peculiar modern chandelier in the foyer, but apart from that and being small it was much like the other West End theatres, charming with the slightly mouldering air of red carpets lush velvet curtains and brass fittings, horrific wine at the bar, and seats that were a bit too tight for Americans.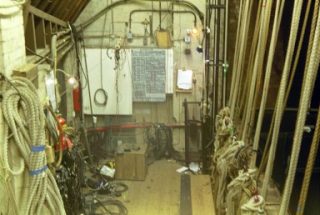 Every night on getting home to my cramped flat near Baker Street, where I shared a room with two nurses from New Zealand and Germany, I would try and remember the names of famous people who had been in the audience that night. I was so naïve about this it used to make them laugh when I would have no idea about who someone was. Occasionally I would recognise someone myself and get a little thrill. I sold ice cream to Tom Hanks once, and tore the tickets of Mel Brooks, Roger Moore, and other regulars of the UK Theatre circuit of the early noughties. Some of us ushers also did a weekend job at a wedding out in Richmond one weekend, and I got chatting to Richard Briars who had played Bardolf in a production of Henry V that I loved watching as a teenager, that was a huge buzz, he was so nice and warm natured, and had taken himself out of the wedding reception to smoke a small brown cigar and he was talking about his love of smoking.
After a few months I got a promotion to a job working at stage door, which meant being a bit closer with the backstage crew and the actors. It was such a funny job, I had to sit all day just inside stage door in what was basically a cupboard with just enough room for a very small television and radio, a place to hang your coat and a place to hang all the different keys to the dressing rooms and other parts of the building. There is an Eddie Izzard live performance recorded at the Ambassadors in the 1990s which is interspersed with a few scenes around the theatre and at the end (on the VHS version at least) there an interview with the former stage door keeper, June who had been in the job for years. She left a year or three before I started but people still remembered her.
I was perfectly at home at stage door, I could read all night, or listen to the radio. I even bought a small guitar that I could strum if I sat kind of diagonally in the space. For breaks I would pop around the corner for a baked potato or a coffee from the Seven Dials. My main tasks were handling post and keys to people as they arrived, and then managing autograph hunters and visitors at the start and end of the show, and locking up the building at the end of the night. But mostly I could occupy myself without any distractions, I would go into  trances staring into space or draw or write. There were two of us doing split shifts on stage door and the other chap Sam was studying composition and he'd have huge sheets of music open that he would be scoring for an opera or something.
While I was there we had all sorts of interesting actors and celebrities come through. Harold Pinter acted in one of his own plays for about a week. Eve Ensler read the Vagina Monologues which then had a run with various famous women reading including Jerry Hall who used to send me out to buy her cigarettes. Mick Jagger came to visit her one night and she made him wait in the corridor for ages. Kerry Fox, a childhood crush, who bought me some beautiful black suede gloves. We also had a bunch of comedians through including Rob Brydon, Ed Byrne and Arthur Smith who used to have lots of girls up in the greenroom after the show and once left a big bag of weed up there for me to find. Mark Salem the mind reader came through and one night after a show I picked up a scrap of paper with some spirit writing on it, that he had left lying on the ground backstage somewhere. The next night before the show, he sent his assistant to ask for it back – and I've got no idea how he knew I had it or why he wanted it back.
My favourite part of the job was after the show had finished and everyone had gone home, and with the fireman it was my job to turn off all the lights and lock up the place. The atmosphere in the theatre is still sparkling with energy after a big show, the room warm from bodies, the smells of stage smoke and makeup and red wine from the bars. I would stand on the stage alone and look out at the silent empty seats, and hear beyond the walls the sounds of the city still groaning, and the occasional distant tremor from the northern line. Narrow corridors led to stairs which wound their way up to the theatre roof, a great place to observe the street below, the crush of paparazzi outside the Ivy restaurant, favoured by celebrities like Elton John or Madonna who would arrive in their luxury cars and scramble out. One night we saw a huge column of smoke rising from nearby – it was a fire burning in some archival building that I later heard had destroyed or damaged hundreds of centuries' old books.
I met my future wife Rose at this theatre – Rose was studying theatre design at a London college and worked in the bar. I first saw Rose sitting in a seat a few rows back in the stalls, I was looking down from the front row of the circle as we all waited for the doors to open for the evening's show. I remember she was smiling and talking to someone up near the stage, and I noticed her soft pale face and wavy dark hair, and wondered if we would be friends. I was very shy and had difficulty even holding up my end of conversations so it seemed unlikely. I would go to the 'two brewers' bar after a shift and sit silently nursing a half pint while all the other ushers who were mostly student actors outcompeted each other for being the centre of attention. I wanted to surround myself with these people though, because I hoped some of their social loquaciousness would rub off on me. I had been travelling mostly alone meditating and dropping out for a couple of years by that point and it took me a while to integrate back in. Rose and I didn't interact very much for the first year or so, although she would make more effort to engage me in conversation and draw me out of myself than most people did. Then by chance a room became available in her shared house at Herne Hill just when I needed it, and after Sam left she started working opposite shifts to me at stage door and our lives kind of merged together, by some unbelievable happy fate.
My stint at the New Ambassadors came to an end not too long after an embarrassing incident where I failed in my main job as stage door keeper – I let someone in who I shouldn't have. It was easy to do. Especially when a new troupe had come in and you were still trying to remember everyone's faces and names. At certain times there would be such a rush of people back and forth it was impossible to keep track of everyone. Also there was no good internal phone system to the dressing rooms which meant I had to climb the stairs to knock on the door and ask actors if they would like me to allow so-and-so to come inside and visit, meanwhile leaving the door unguarded. Clive Owen was the lead in a play called A Day in the Death of Joe Egg, alongside Prunella Scales, and he was getting a lot of celebrity visitors, I guess they all wanted to say hello as his star was rising. I barely recognised them but Kevin Spacey, John Malkovich and Ben Stiller (who had lovely shoes) all dropped by. One day a bloke comes to the door during a show and says he was there to see 'Sue' – and he walked right in – it's the sort of thing that happens all the time.  I was sitting there trying to remember who Sue was, when he comes past again and says to me, very emphatically "thank you". So I think "I wonder what that was all about" and decide not to worry. You see I am not a very naturally suspicious person. Well, a little later it turns out Clive has had a couple of hundred pounds stolen from his wallet. I make the connection with this "Sue" character and fess up that it must have been my fault for letting him in. I was absolutely mortified that I had failed in my one job – Clive was very kind about it to me though – and I think the theatre probably reimbursed him. I just got a bit of a telling-off from management and sideways glances from the crew but anyway from then on I felt like I had let everyone down and wasn't really much good at my job so I left not too long after that.
I did work in theatres again for a little while – over at the Royal Court which had their new theatre building after having taken over the Ambassadors for a time as I mentioned before. The new space was intriguing with a neat little studio theatre upstairs and a large bar and restaurant under the street. There I saw another bunch of great shows and met interesting folks including Mos Def who did a great job as lead in a really cool play called Topdog/Underdog. I could have stayed there a lot longer but by then Rose and I were thinking of marriage and saving up and so I quit the theatre world for the somewhat larger income of an administrative job, working for the Queen (sort of) at the Crown Estate, which is another story.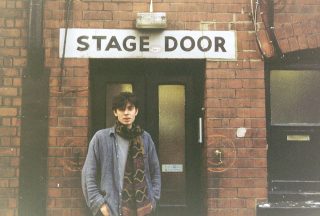 But anyway thank you Laura, wherever you are now, for indirectly getting me into the theatre world for a few years. It satisfied my reasons for going to London in the first place, having grown up watching English BBC television all my life on the Australian ABC. I wanted to get inside that world a little bit and understand it – to sample the source – and I did get an insight into that place, briefly, for that year or two letting people in at the stage door of the New Ambassadors. Most importantly it's where I met my wife Rose, although we are now living separately, our whole lives since then including our three kids emerged from the chance experiences of that time.