Bec Sandridge at UC Hub 12 October 2018
Bec Sandridge first stuck me as out of the ordinary when I heard her unique voice — a kind of seashell soft croon that has both a warm force and an ease, winging at airy heights — and her early songs allied this naturally with a sweet acoustic guitar. But as her music has developed, this uniqueness of style has extended to all aspects of her career and she is now becoming an icon as a queer/non binary artist, with a new sound, self styled as 'spaghetti pop' — which takes a leaf from glam punk, and rides a new wave into the 21st century alongside female power female pop icons like Robyn and Tegan and Sara.
Assuming the stage to an organ driven drone at The Well bar at the University of Canberra Hub, Bec's muscular presence towers even higher on shiny black platform sneakers. Her newly shorn white blonde hair is slicked back, her purple lips matching a Bowiesque sci-fi costume in lilac and black, over white shirt with a huge Nick Cave collar.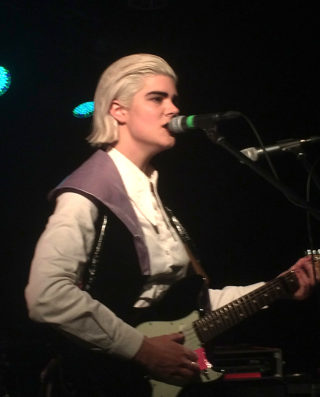 Bec's voice assumes its power as she warms up, rocking back and forth on the stage, and breaking into a bird-of-paradise like dance, as she becomes into herself, as the performer and dominates the moment, her long hands triangulating the neck of her fender duosonic, with talented playing that is a marriage to her voice. At times the notes of the guitar and her voice played in unison are so loud and pure it is like a beacon, a searchlight, transcending the song itself.
After playing the first few songs, including the anthemic 'you're a fucking joke' (which is about going out with a musician, she says) and a powerful 'in the fog, in the flame', Bec takes a break "to get my breath back, to be honest" and chats to the small but adoring crowd. After one excited fan talks about seeing Bec in the audience during the support act, Bec dedicates the next song to her, beginning with an outstretched arm and new lyrics ad-lib.
Bec being here is more than what is happening on the surface. Although she has become an icon of queer (and the toilets in the bar became gender neutral for the night) and she has spoken about gay rights with Zan Rowe on Triple J in the aftermath of the Australian marriage equality survey in 2017. There is a sense of complexities under the surface, and in interviews Bec has contrasted her current identity with the ideology of her Pentecostal christian upbringing — a faultline that also runs through Australian politics at this moment in time.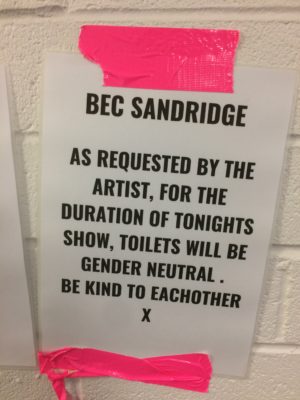 The 'coming out' song which characterises this polemic struggle is 'ill never want a boyfriend':
I'll never have a boyfriend /Just cause you think I should/ Just cause you think I will …. I'll never want a boyfriend /Just cause you want me to /Just cause you think I do /Just like you
— which is also the crowd's favourite tonight. Afterwards, Bec takes a victory lap around the room and then returns to the stage for a stripped back solo of voice and organ, an exercise in purity and power.
I love Bec, I love her voice, I love her music, I love what she is doing with it, and I wish her all power as she takes it to the changing world — as an agent for that change, an agent of the resistance.