Connoisseurs of the Canberra music scene will have at some point found themselves grooved by the intimate and experimental folk triptet Hashemoto, or may have got to know them in their previous incarnation Trouser Trouser. The core of that outfit Damo Flanagan (guitar) and Potsy Webber (double bass) have in recent years combined their talents with those of Melbourne trained classical pianist and composer Alan Lee to create an exotic harmony of folk songwriting and classical traditions. I met up with Damo and Potsy under a cloudy moonlit sky for beers and discussion on the origins and direction of the band, on the virtues of live performance and the music scene that they have been part of in some way since the nineties.
"We called the band Hashemoto because Trouser Trouser had worn a bit thin, so to speak. That name had us pigeon-holed as a funny band. Hashemoto was the name of a Japanese Prime Minister – we thought it was the cool guy with the big hair – actually it was another Prime Minister without big hair, he had really short hair. But we liked the word Hashemoto. It doesn't really mean anything or reference anything."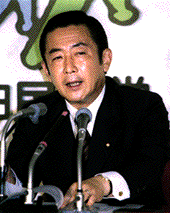 The band's line up has been tweaked several times since inception sometime around 2003. "Our experience as Hashemoto has been accidental and different to Trouser Trouser. We are playing a lot of small gigs, at lots of different venues. Sometimes there might be only ten people. We play house gigs, backyard gigs.." Potsy is wearing a hairy brown jacket and sucking on a schooner ".. the local scene is so exciting at the moment. Because there are no venues … the Canberra Musicians Club is doing bachanalia (monthly gigs in private backyards) and there are all these house gigs. Its a really trusting arrangement. It could only happen in a city this size… where you can drive everywhere. It will have changed again in a few years.. don't miss out on it while it's happening."
Hashemoto recently contributed live music to the Min Mae production of 'Still Standing', at the Street Theatre and in September they played at an album launch of another Canberra act, Julia and the Deep Sea Sirens. A spontaneous gig at the ruined Yale-Columbia Refractor on Mt Stromlo was nearly scuppered when observatory staff found out about it. "Someone made a facebook page for the event and word began to get round when suddenly we found that the people at Stromlo weren't that happy about it… but we managed to make some calls and smoothed things over." Fans assembled in this odd concrete astronomical relic were treated to unique acoustic performance complete with trolleyed-in piano and sunset over the Brindabellas.
So are there plans for an album? "People sometimes come up to us after a gig asking if we have a CD and we have to turn them away, saying we're just a live band. But we recently booked a room in the School of Music and Duncan Lowe from Infidel Studios, who is a brilliant, internationally renowned engineer, came in and set up a mobile 16 track studio. We got together a small audience from the mailing list and over about three hours, we just played through everything we had. But it was six weeks before I listened to it." says Damo. Making some kind of recording available to fans one day is grudgingly entertained, if only to attract more people to their live performances, but it will take these two musicians to agree on whether screen printing on an album cover is the way to go first.
For all the candlelit intimacy of their performances, there remains a tension at the heart of the music of Hashemoto. A tug of war somewhere between the discipline of tight harmonies and the spartan under-amplified sound. Damo says "there is nowhere to hide, either the harmonies work or they don't – you can't disappear behind a wall of sound". It is as if the funky-folk-pop ghosts of trouser trouser are tremulously assaulting a tower of classical song, Alan Lee's piano strewing a torrent of machinated Rachmaninoff and Debussy upon an unfamiliar enemy landscape. The lyrics play with visual dreamlike images, and like the live medium in which it exists, this music has a renegade quality, escaping capture.
"There is a deal with the audience. Sure, there is the odd person who talks. But someone will ask them to shoosh up." Potsy recollects "I remember the time when we discovered the thing. It was a rock and roll night. But we unplugged and just sat on the piano with the guitar and the double bass. And the whole pub went quiet. If that happens you know your melodies work. Because you can't keep 100 people quiet in a pub… you couldn't do it if you went there with that aim… unless it was Anzac day or something. That was one of the most amazing moments of my life."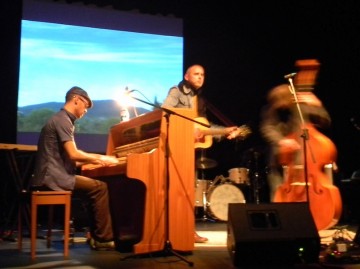 (This image of Hashemoto is plucked from the web blog of alan david lee, i hope he doesn't mind if i plug him and his band )
Hashemoto are playing at the National Folk Festival April 21-25 2011