Tame Impala / Cabins / Felicity Groom @ ANU Bar, Sat Oct 9 2010
Tame Impala swept a Canberra crowd with psychedelic viscera on Saturday October 9, as part of their current Australian tour in support of their first full album, Innerspeaker, released in May this year. Having recently completed a significant European tour, the band is riding a wave of complimentary reviews, many of which advise fans to 'take their dads' to hear the apparently John Lennon-esque vocals of lead singer Kevin Parker, or to nostalgia surf on Cream/Hendrix like layers of wet and chunky out-of-phase fuzzy goodness. This feat is made the more remarkable by the fact that the band was firmly beyond the womb when said acts were on the stage, rocking their mums or dads (or grandads).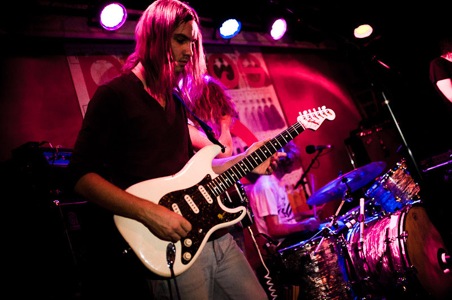 The crowd at the ANU Bar on this night were firmly of the current generation, to be fair. Recent touring seemed to have worn down the batteries of the band; renditions of It Is Not Meant To Be and Solitude Is Bliss were far too soporific even for the dreamy genre to be entirely to blame. But the boys began to find their groove with an infectious, driving and loud take of Lucidity – probably the strongest track from their new album. It is a compliment to the band's virtuosity that it can convincingly recreate the complex textures and nuanced sounds of their new album on stage.
Innerspeaker is the lovechild of indulgent studio tweaking and experimentation by the band, who locked themselves away in a remote mansion south of Perth for seven weeks to develop the project last year. Kevin has described it as "a modest album with modest songs" but fans have revelled in its luxurious decayed guitar riffs and poignant nods to early influences. The band's retro sound and home studio origin have sometimes led to comparisons with contemporary lo-fi outfits, but Tame Impala are responsible for some of the most lush and organic music gracing the Australian airwaves in recent years. And for what is essentially a traditional four-piece band, their onstage presence is hard to match, after the layers of reverb and echo begin to stack up.
After Lucidity, the band returned to older material, which has seen significant reworking since the Sundowner Syndrome tour of 2009. Desire Be, Desire Go is played twice – once containing a lengthy interlude that references obscure early Pink Floyd's Atom Heart Mother, the second rendition as a short almost punky segment that is segued into Skeleton Tiger. The band's well known cover of the 1980s Blueboy remix Remember Me revealingly gets the most enthusiasm of the night from an audience that seems more interested in dance songs than in exploring the aural soundscapes in a blissed out swoon, like its '68 era LSD soaked prototype. But this is the price of popularity. Finishing the night with their superb Glass Half Full of Wine the band gets a roar from the crowd, but ultimately there is a lack of frisson, which becomes palpable with no chance of an encore being granted due to a soggy endgame of half-hearted applause and confused whistling. The sound desk has to look at how it is mixing this venue as a massive midrange and loss of detail was punishing this music at different points during the night.
Tame Impala are already talking about releasing their next album, whilst continuing to tour almost constantly, and judging by the ease with which they are creating great music (and amassing kudos), they are going be a hot act to follow for some time.
Support act Felicity Groom and The Black Black Smoke made an impression earlier in the evening; the eponymous Ms Groom sporting an awesome elastic voicebox and an electric zither – occasionally both at the same time. If you've never heard an electric zither, go find Felicity right now, and get her to stick one in your ear.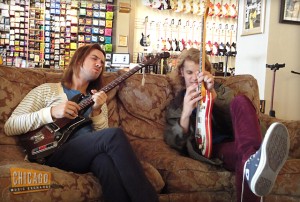 Tame impala, appropriately, buying an Hagstrom Impala guitar at Chicago Music Exchange (image courtesy of) These guys are all about the gear!