A large old Apple Box tree, (a variety of Eucalyptus), that grew beside the road near Lagoon in Burra, blew down in a storm last week.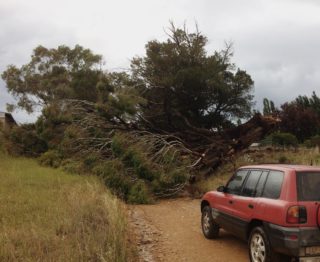 Large eucalypts like this one would be over 200 years old, their lives stretching back into pre-occupation times. The long memory of these trees drinks from the still, still waters of the dreaming. If you are very quiet they can still give you access to it.
This tree seemed healthy, we had a good spring here with moderate rain, and it was covered in fresh leaves. It was mere bad luck, from the peculiar violence of the storm which tracked a narrow path through the valley, tearing the bark from the white-barked gums to lie in pink patches over the ground.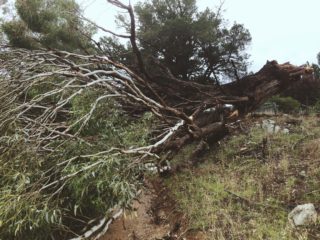 In the root ball, there was a large termites' nest, and a dead brown snake. My uncle said he poisoned the nest a few years ago, but it may have been enough to weaken the roots which had all snapped off at ground level from the force of the wind.
Within a few days the SES and the council had sawn it up, to clear the road, and eventually carted most of it away, I don't know where they took it to.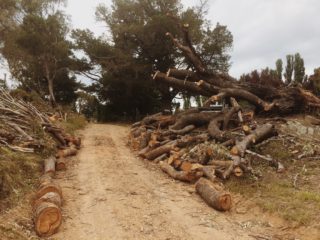 In the Canberra region, some of the old trees still carry scars from the Ngunnawal, Ngambry, Ngarigo and other local indigenous people who cut pieces of bark off to make bowls (coolamons), shields, canoes and other things. The 'Blakelys' red gums (Eucalyptus blakelyi) have a smooth thick grey bark which curls slightly as it dries out, and the big old trees are the ones most often seen with these marks. Some have survived the clearing to make Canberra's suburbs, and so now exist as relics of the past in people's yards or in nature strips or school playgrounds.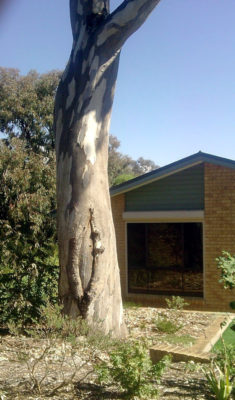 Unlike the scars in rocks (from tool sharpening and grinding) which change ever so slowly, these trees continue to change and respond to the touch of Australia's first people, and so they calmly stand among us and remember, as we buzz around and pass them in our daily frenzy.