60's nostalgia reminds me of the 16-bit decade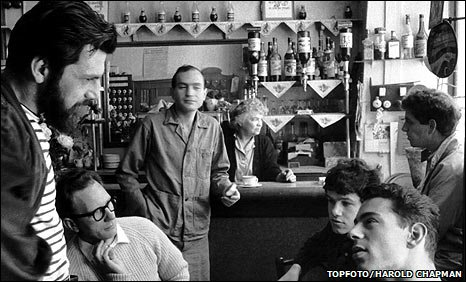 Readings about Corso et. al. lead me to discover Harold Chapman's photos of the Beat Hotel. Shame they are all locked up behind a paywall, I wish they could escape and fertilise the minds of artist poet shamans everywhere. I would like to read the article by Kali Smart in the Beat Hotel magazine if someone could send me a copy i would die of gratitude. These pictures remind me of hotel dives in india i lived in years ago, the cell bars on windows allowing mosquitoes freedom to visit. Also the Argyle Backpackers in Edinburgh 1998, hangout for diversity of random friends back in the days before mobile phones, when thoughts still occurred on paper. I have some small canvasses from those days, which I'll scan and append to this post later. Braden! I miss our lanky drunken strides across the Meadows! I wrote some of my first poems there.. happy 16 bit decade. I revisit it whenever I poke around inside moricons.dll, curiously packaged inside windows 7, I suppose for reasons of nostalgia only.
Update: was poking around in Windows 8 the other day and moricons.dll is still there! Long live moricons!!